Sweet and Savoury Canapes
Canapes are traditionally small pieces of bread or pastry with a savoury topping, served with drinks at receptions or formal parties. At Foxes Catering, we make our Canapes using all sorts of bases, including pancakes and Scallop shells! We also provide sweet canapes, perfect little bit sized pieces of dessert heaven!
We have included a selection of the sweet and savoury canapes Foxes Catering can offer but there are many more! Canapes are charged individually per selection to begin an event with; Canape Parties are charged per head – please contact us for a quote.
For more information and to tailor food to your requirements, please give us a call on 01488 638269 or fill out the form below and we will be in touch.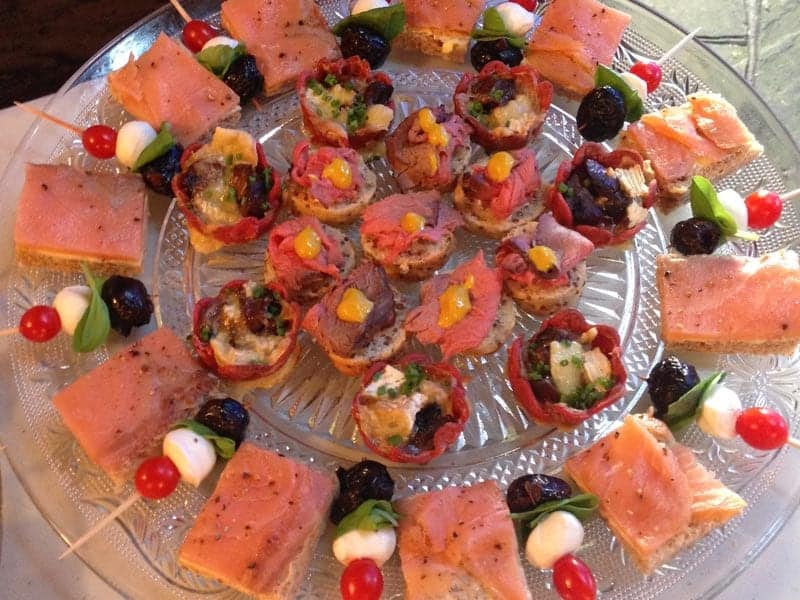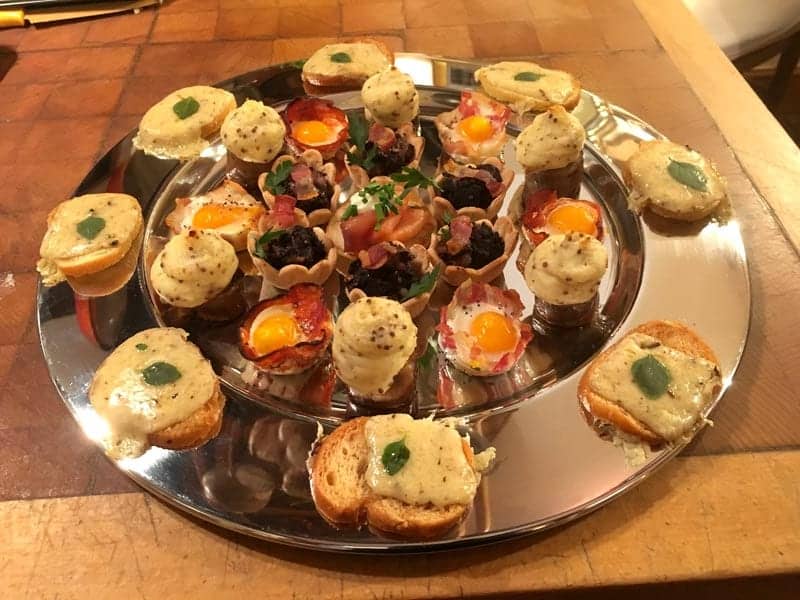 Savoury Canapes including Sausage Mustard Mash
Savoury Canapes including Tomato, Olive, Basil & Mozzarella Banderillas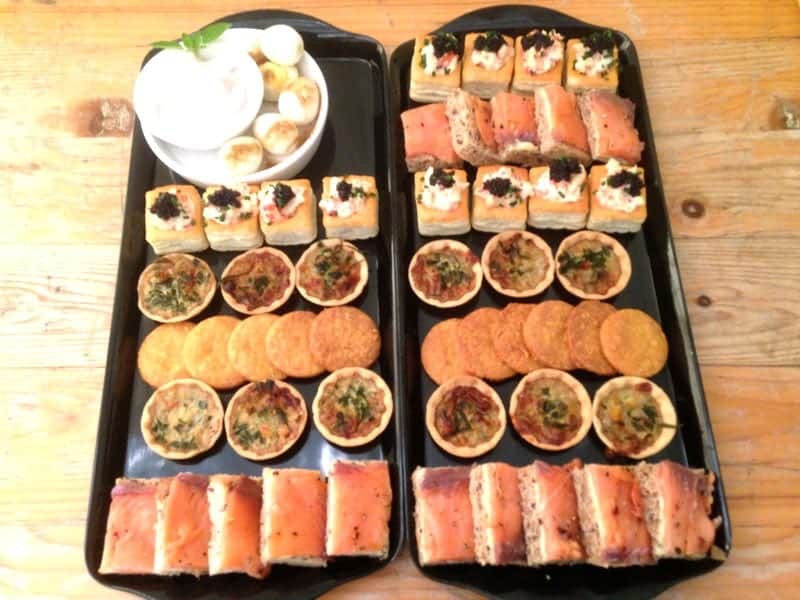 Savoury Canapes including Ratatouille Tarts
Asparagus wrapped in Black Forest Ham
Roasted Red Onion & Goat Cheese Tarts
Dilled Salmon on sticks
Lemon & Garlic Chicken on sticks
Stilton & Spring Onion stuffed Mushrooms
Blinis with Creme Fraiche, Roes & Chives
Ratatouille Tarts
Honey & Mustard Cocktail Sausages
Sausage with Mustard Mash
Tomato, Olive, Basil & Mozzarella
Banderillas
Roasted Vegetable Banderillas
Baby Baked Potatoes stuffed with Ham and Cheese
Baby Baked Potatoes stuffed with Tuna, Cheese & Dill
Duck Pancakes with Dipping Sauce
Spiced Salmon Fishcakes with Chilli Dip
Black Pudding with Chutney, Bacon & Parsley
Mini Samosa with Dip
Blue Cheese & Chorizo Frittata
Scallops in the Shell with Salsa Verde
Dilled Scones with Smoked Mackerel
Smoked Trout & Dill Pastries
Mustard Scones with Rare Beef
Goat Cheese, Tomato & Basil Pastries
Savoury Croustades, Various Toppings
Wrapped Prawns with Dipping Sauce
Cockle Tarts
Wild Mushroom Pastries
Mini Chocolate Eclairs
Mixed Macarons
Mini Mille Feuille
Mixed Fruit Meringues
Raspberry Shortbread
Strawberry Shortbread
Lemon Tarts
Chocolate Tarts
Chocolate Brownies with Raspberries
Chocolate Pancakes
Pistachio & Raspberry Torte
Vanilla Cheesecake Squares with Strawberries
Ginger Cheesecake Squares
Fruit Jelly Shots
Alcoholic Jelly Shots
Banoffee Tarts
Bakewell Tarts
Sticky Toffee Squares with Toffee Cream
Sweet canapes including Strawberry Shortbread
Sweet canapes including mixed Macarons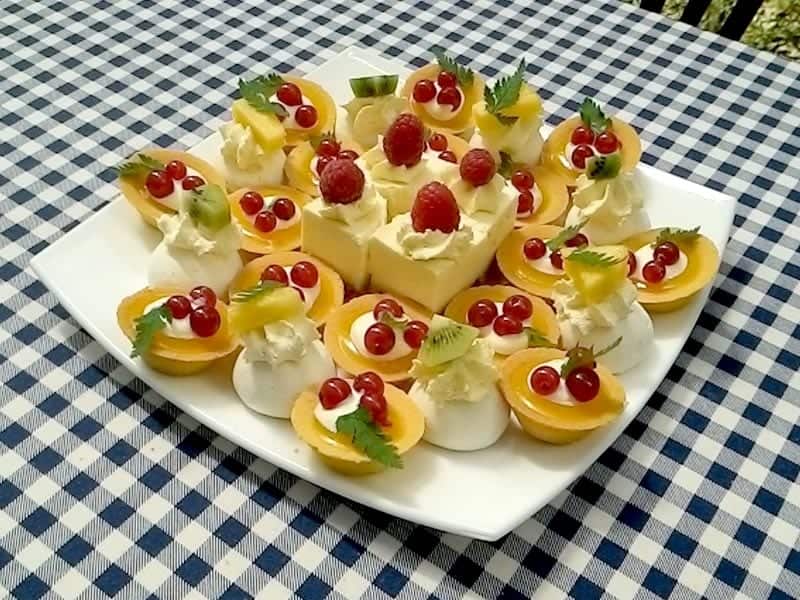 Sweet canapes including Lemon Tarts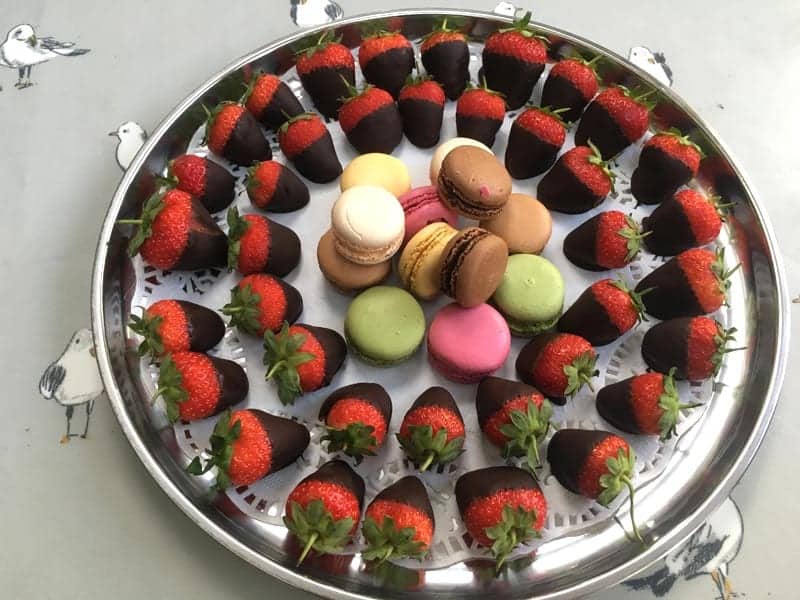 Sweet canapes including Chocolate Dipped Strawberries
Browse through our gallery...
What our customers say...
"Thank you both so much for the superb food provided for Sarah & Peter's wedding last weekend- and with such good humour on the day It was just brilliant. I was sorry not to meet you Karen but by the time I got round to it you had left. Dick & I wish you continued success with your catering service_ we will recommend you."
"Just a very quick line on our new posh paper to say thank you so much for everything on 16th Sept. Your wonderful contribution (and cooking!) helped make our wedding the most fabulous day of our lives. We couldn't have asked for more. We have recommended you to a couple of friends who are getting married, so really hope to see you soon."
"Foxes Catering is a very personal style of catering in your own home, you never ever feel "you have tasted it before". Guests who may have experienced "Nick and Karen" before are only too delighted to meet Nick and taste Karen's wonderful food again..."
"One of the most talked-about parts of our wedding was the amazing food and faultless service that Foxes Catering delivered on our wedding day, thoroughly recommended"
"Just to say a big thank-you for all you did to make my birthday the memorable occasion it was. I realise how much preparation went in to the delicious meal. Feasts like that don't just happen. We have had some super letters from friends all saying how much they enjoyed the magnificent food. We are sooooo grateful."
"...Four months after the wedding we still have people talking about the food that was served at our wedding breakfast! We'd both thoroughly recommend Foxes Catering to anybody that is considering doing something a little different with their wedding reception - you're in safe hands and won't regret choosing them, we're so glad we hired Foxes Catering."
"Everyone who came loved the evening, as we did. The food was totally amazing, as was the overall level of service and your attention to detail. You made 50 people in the house for dinner a wonderfully painless experience! You'll definitely be top of the list when we next need caterers, and I'm also singing your praises to anyone who I think may need caterers at some stage in the future."
"Thank-you so much for catering for my 70th birthday dinner party. I can think of no greater luxury than a wonderful meal cooked and beautifully served in the comfort of our own home. We really feel that you Karen excelled yourself in creating a superb menu, everything was so delicious and well balanced. All our friends have written expressing the same sentiments. You Nick, are such a good 'Maitre', even finding the time to keep the fire going in the sitting room! It was a joy to find the kitchen immaculate and all the cutlery washed up too. We shall continue, with pleasure, to recommend 'Foxes Catering' to all we meet."
For more information or to discuss your catering requirements, please complete the following short form and we will contact you. Alternatively, email us at: [email protected] or telephone 01488 638269.